The Outdoor Mirror Guide: How to Spruce Up an Outdoor Space
Posted by MIRROR CITY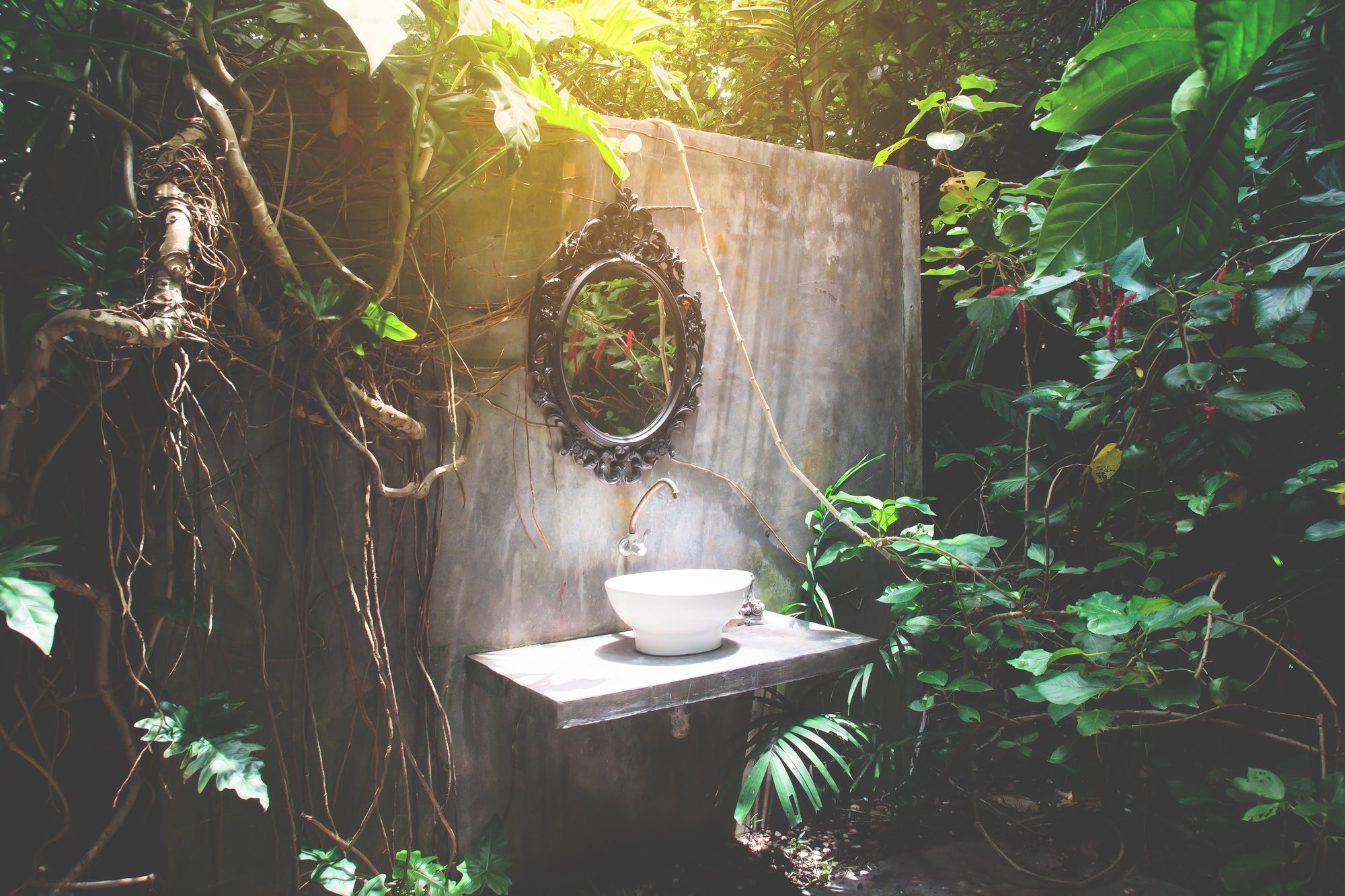 Mirrors are some of the most versatile home decor pieces you can get. With a little creativity, a mirror can be used in just about any room in your home -- and even outdoors. They're both functional and aesthetic and make a statement no matter where they're hung. Looking for a little inspiration on how to spruce up an outdoor entertainment area? This outdoor mirror guide is here to help.
10 Simple Outdoor Mirror Decorating Tips
Okay, so mirrors are not typically something you'd associate with the outdoors. But the beauty of home aesthetics and style is that it's deeply personal. There are no set rules on how to decorate your home or an outdoor entertainment area.
Outdoor mirrors are an exceptional way to spruce up an outdoor space, especially if it's a small or cramped area. Here are 10 outdoor mirror ideas for inspiration.
1. Add Vertical or Horizontal Space
One of the simplest and cheapest ways to open up the space of a room is by adding a mirror. The same goes for your outdoor entertainment area.
If you have a small patio, balcony, or garden, an outdoor mirror can open up these cramped areas both vertically and horizontally. Go for a tall, standing mirror that leans against a wall to create the illusion of vertical space or a higher ceiling. Or, hang the mirror horizontally along the main wall to create the illusion of a wider space.
Make sure the mirror is proportionately rectangular -- don't go for something too narrow or squat.
2. Create an Outdoor Focal Point
If your outdoor area or garden is feeling a little lack-lustre, adding a large statement mirror is a great way to turn things around.
Go for a big, round mirror with a thick, ornate frame and hang it on an accent wall or main wall to create a clear focal point. You can create the same effect with multiple mirrors too. Choose three round mirrors of equal size and stack them as you please.
3. Build Yourself a Comfy, Cosy Nook
If you have a small patio or balcony, choose one corner and create a comfortable, cosy nook with the use of a mirror. Go for something round and ornate or square and antique and hang it above a couch or daybed. Add a small chandelier or a string of fairy lights that will reflect off the mirror for a dreamy outdoor space.
4. Spruce Up Your Hedge
Another great way to decorate with mirrors is to approach a larger garden as if it were a room in your home. Look to your hedge as an opportunity to hang a large mirror as it acts as a wall. Otherwise, turn your hedge into a mosaic of mirrors that reflects and bounces light around your garden. A dense conifer hedge would suit this type of idea.
5. Use Mirrors as Props
If you're unsure about hanging a mirror as a permanent fixture in your garden, turn it into a prop instead. Use a large standing mirror and lean it against a free wall or in an empty corner of your outdoor space.
This is a great way to restructure and redecorate your outdoor space when you feel like mixing things up from time-to-time. Drape fairy lights or hanging vines over it so it looks like it's simply part of the furniture.
6. Punctuate a Dark Space
If your outdoor entertainment area is a little dark and dingy, adding a mirror can brighten things up. If one mirror is not enough, try building a mirror wall to reflect light and liven up the area.
This is also a great way to reflect the natural colours of your garden without having to plant heaps of new flowers or vegetation.
7. Double Up Your Space
Go for an on-trend symmetrical look in your garden by hanging two large, full-length mirrors. Essentially, when the two mirrors hang side-by-side it will look like two doorways, literally doubling the space of your garden.
Decorate around the foot of the mirrors with small shrubs and pots of flowers so that each mirror reflects the vegetation. Overall, this creates a larger, more vibrant look and feel to your outdoor area.
8. Hang it From the Ceiling
This idea may sound a little far-fetched but it's a brilliant way to reflect light and create the illusion of height and space.
If you have a solid-roofed entertainment area, hang a large, rectangular mirror from the ceiling to counteract a stuffy, dark or outdated space.
9. Use Contrasting Materials
If your garden is host to an unsightly wall or fence that you've been meaning to paint, there's a simple solution. Look for a mirror and frame that will complement the wall by means of contrast. In other words, if you have a brick wall, go for an antique, weathered look mirror. The contrasting materials make a great focal point.
10. Colour Your Garden
Finally, if your garden is lacking a little colour and you can't bring yourself to keep flowers alive, year-round, then a mirror collage is ideal.
Go for a selection of different coloured and textured mirrors and choose a vacant wall as your focal point. You can quickly add colour and texture to your outdoor space, without having to worry about watering your flowers.
Add to Your Mirror Collection With Mirror City
No matter the style of outdoor mirror you're looking for, Mirror City stocks a wide range to suit all tastes and aesthetics for all Sydney homeowners.
Shop for your ideal mirror by size, shape, style or colour. We also provide custom cut-to-size and mirror framing services. Check out our range of new arrivals here!