The Interior Design Guide: How to Place a Backlit Mirror
Posted by MIRROR CITY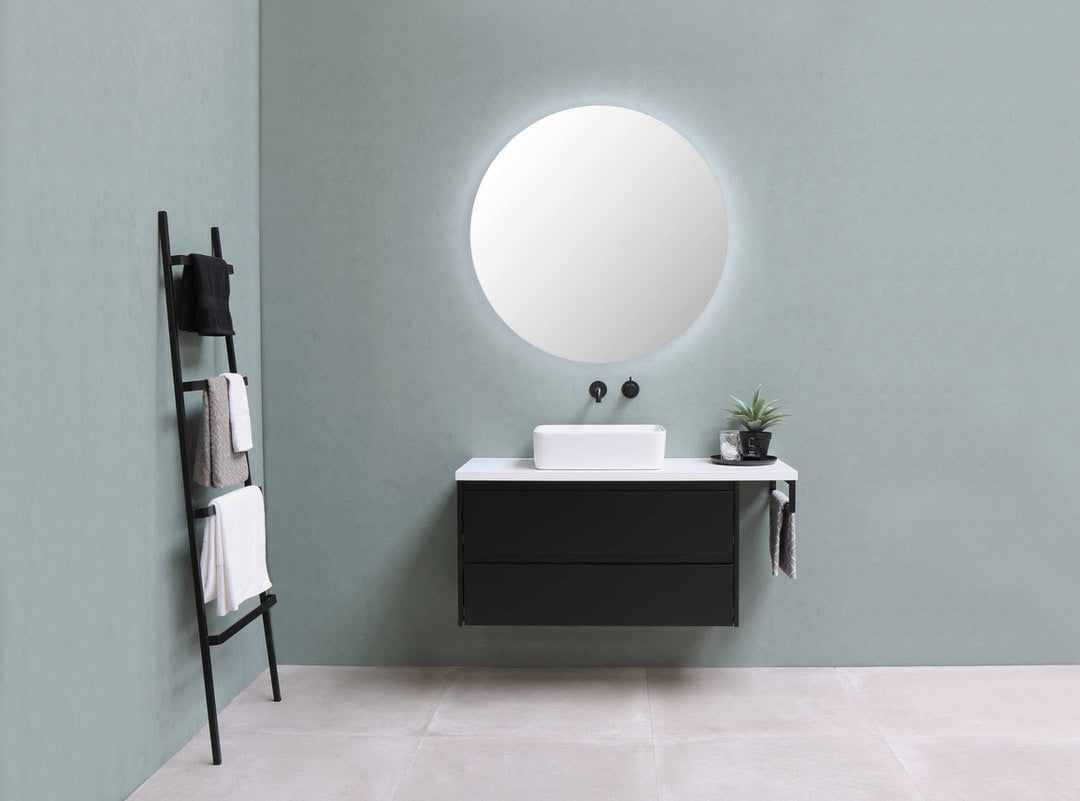 The earliest artificial mirror discovered by archaeologists dates back to 6200 B.C.E. and was made of polished obsidian. Through the ages, people would use mirrors for beauty purposes, for divination, and even to ward off evil spirits. 
These days, we use mirrors to decorate our homes and get ready in the morning. Mirrors have come a long way since the use of polished obsidian, and there are many designs, sizes, and lighting styles you can use in your home. 
For instance, you may have heard of the backlit mirror. This style provides a soft glow, and it won't cast shadows on you as you prepare for the day ahead.
Knowing how to hang it is the first step and can affect the entire look of your room! Keep reading to discover how to place it the right way and get the most out of your new bathroom mirror. 
Choose a Style
All interior design begins with examining the room and envisioning the placement that you want. Measure the space to get a rough idea of the mirror size you'll want to buy. 
You'll also have to consider the different shapes and what you want in the room. Check out some of the latest mirror trends to get an idea of what you like. 
A long, horizontal mirror accentuates width, while a tall mirror accentuates height. Choosing the right size and style can draw attention in a particular way or make a room look bigger. 
Angular and unusual geometric shapes create visual interest, while square and rectangular mirrors are a classic style that looks good in any room. If you're interested in a "softer" look, go with a round mirror. 
Are you looking for unique mirror ideas? You can group mirrors together to create a specific design. 
Remember, the size of the mirror matters, as you'll have to consider how much you want to be reflected and the impact of the mirror. Is it a statement piece or a focal point? A backlit mirror makes an excellent focal point in the bathroom, especially a square or rectangular wall mirror. 
Choosing the Placement
Getting the placement right is critical if you want the room to look cohesive and inviting. When placed correctly, mirrors can make small spaces feel larger by bouncing the light. For instance, placing them next to a window or a light source will brighten up the room considerably. 
You also want to avoid any dos and don'ts when hanging a mirror, such as placing it across from a door. 
Decide if you want to place one mirror or a group of them. Create a layout using paper to get a feeling for how to space your mirrors in the room. 
Avoid hanging the mirror too high, as it can look awkward in the space. The general rule is that you should hang mirrors around eye level. If you want the ceiling to appear higher, choose a larger size. 
Types of Backlit Mirrors
Certain styles are designed to be hardwired and meant to hang in one direction. For instance, our Ablaze Premium SO Range Back-Lit Oval LED Bathroom Mirror hangs in a portrait position and is screwed directly to the wall. 
Other mirrors have a versatile look and can hang either vertically or horizontally. Our mirrors also come in varying sizes to suit both large and small spaces. 
Some backlit mirrors have a control switch instead. Our Camden Touch Switch Back-lit Bathroom Wall Mirror has a simple and convenient touch control option, for example. 
Tools to Hang a Backlit Mirror
Before you hang your mirror, you'll need the right tools. The tools you need depend on the mirror style you choose, but in general, you'll need hooks or screws to mount the mirror, anchors, a drill, a screwdriver, a stud finder, a pencil, and a level. 
You'll need adequate hooks to hold your mirror in place. Never use picture wire or chain to hang a mirror! 
For heavy mirrors, you'll need to place the hangers into studs or use an anchor. Remember, hooks and hangers are rated by weight, so ensure you get the right hardware for the weight of your mirror. 
Getting the placement of the mirror is tricky, and a crooked mirror can ruin the whole look of the room. That's why getting the measurements and using the right hardware is key to beautiful bathroom designs. 
Use a stud finder to look for studs or use anchors. Measure the distance between the hangers on the back of the mirror and lightly mark the wall. Make sure the marks are level before installing the hooks. 
Secure the hooks to the wall and hang the mirror with the strap hangers on the back. 
Hardwired Mirrors
Some styles require hardwiring for them to work. Hardwire installation isn't a job for most homeowners, as getting the wiring wrong can prove to be a hazard. It's also vital to make sure your lighted mirror is far enough away from the shower or bath.
If there isn't an electrical outlet behind the mirror, you'll have to install a new electrical outlet to power your mirror. It's best to leave this type of work to a licensed electrician. 
We strongly advise having a professional hang your mirror. Investing in installation services is safer and also ensures your backlit mirror will fit perfectly in your home. 
Light Up Your Room
There's no doubt that hanging a backlit mirror can instantly brighten up your space, as long as you get the placement right. Use these tips to hang it and transform the look of your room. 
Are you ready to buy a backlit mirror for your home? Take a look at our collection to find the perfect piece! And remember, at Mirror City Sydney, we also offer professional mirror hanging installation.