3 Tips for Hanging A Decorative Mirror
Posted by MIRROR CITY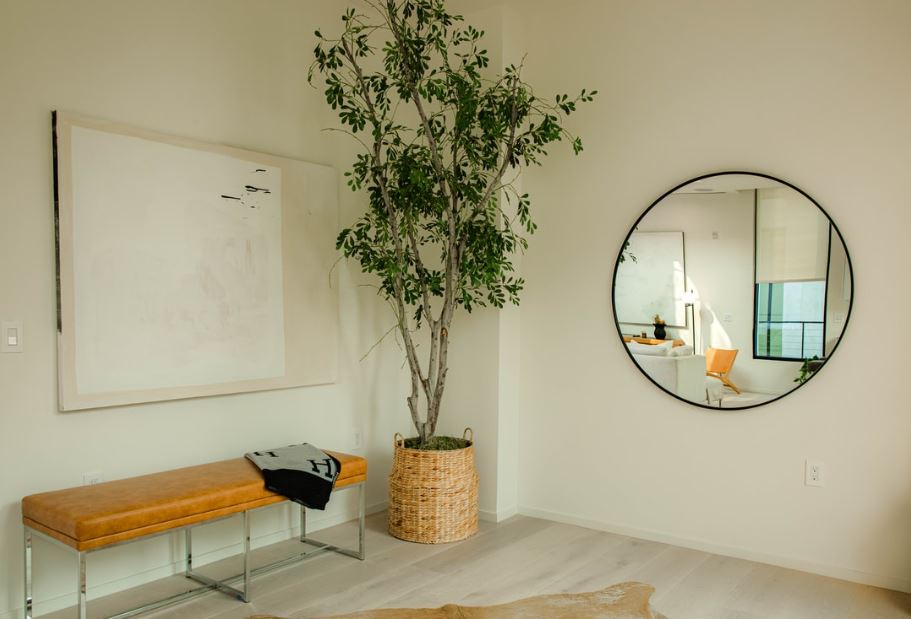 If you thought that the pandemic stalled interest in home decoration and renovations then you might want to think again. Reports from last year showed that Australians were spending a record $1 billion (collectively) on home renovations and upgrades.
While you might not be able to splurge on a total renovation, redecorating can add a touch of style to any space.
Are you looking to add a splash of elegance to your home but don't know where to start? A decorative mirror is a perfect way to brighten up any room and create an instant focal point. It's also a great way to add some visual interest to a room. 
But before you start hammering nails into the wall, there are a few things you need to know. Here are our tips for hanging a decorative mirror like a pro in your Sydney home.
Tips for Choosing the Right Decorative Mirror
Before we dive into our tips for having a decorative mirror, we want to ensure that you understand that the type of mirror you're hanging can make all the difference.
And while a decorative mirror can be a beautiful addition to any room, choosing the right one can be tricky. We're here to help you out, though.
First, consider the size of the mirror. It should be proportional to the size of the room and the other furnishings in it. 
And when it comes to the other furnishings, you're going to also want to ensure you're thinking about the style of the mirror. It should complement the overall aesthetic of the space while keeping in line with the design style and shapes of the space and furniture.
Then, determine what function the mirror will serve. Do you need a full-length mirror for getting dressed? A decorative wall mirror for adding light and interest? A small vanity mirror for applying makeup?
Once you've considered these factors, you'll be well on your way to finding the perfect decorative mirror for your home. Then, it'll be time to hang it!
Where is the Best Place to Put a Decorative Mirror?
Decorative mirrors come in all shapes and sizes, making it tricky to decide where to put one in your room. However, there are a few general guidelines that can help you choose the best location for your mirror. 
First, take into account the size of the mirror and the space available in your room. A large mirror will need a larger wall, while a small mirror can be placed almost anywhere. 
Second, think about the purpose of the mirror. If you want it to be a decorative focal point, place it in an area where it will catch the eye. If you plan to use it for tasks like getting dressed or putting on makeup, hang it near a natural light source. 
Finally, keep in mind that mirrors can be used to create the illusion of more space. 
If your room feels cramped or cluttered, placing a mirror opposite a window can give the illusion of a larger and more open space. With these tips in mind, you'll be able to choose the perfect spot for your decorative mirror.
Disclaimer: This guide is prepared by Mirror City solely to provide guidance regarding the proper installation and care of mirrors. We claim no liability for any loss or damage of any kind when installing mirrors yourself. Professional installation is always recommended so if you have even a little doubt let experts handle this for you. Here at Mirror City, we have extensive experience handling and installing mirrors. If you are based in Sydney Metro, please contact us for installation services.
3 Tips for Hanging a Decorative Mirror
By now you hopefully have a good idea of the type of mirror you're looking for. Great! Now, where exactly should you hang it and how? Here's how to ensure you're hanging your wall mirror decor correctly.
Avoid Hanging Mirrors Facing a Window
Most people know that decorative mirrors should be hung with care. After all, no one wants their mirror to fall and break. 
But did you know that there's another reason to be careful when hanging mirrors? You should avoid hanging mirrors facing a window. 
Why? Because the sunlight reflecting off the mirror can damage your floors, furniture, and even your walls. While you can often use this trick to enhance the amount of natural sunlight in a room, it's best to stay away from hanging mirrors in a way that will allow sunlight to beam straight onto natural wood or sensitive fabric.
So if you want to keep your home looking its best, take care when choosing where to hang your decorative mirrors.
Choose the Right Height
When hanging a decorative mirror, it's important to choose the right height. The mirror should be high enough that you can see your reflection clearly, but not so high that it feels like you're looking down at yourself. 
A good rule of thumb is to hang the mirror at eye level. This will ensure that you get the best possible view of yourself while still being able to appreciate the mirror's decorative elements. 
Keep in mind that the exact height will vary depending on the size of the mirror and the height of the person who will be using it.
Make Sure the Mirror is Hanging Straight
Not sure how to hang a decorated mirror straight? First, use a level to mark where you want to hang the mirror. Then, use a tape measure to find the centre point of the wall and mark that spot with a pencil. 
Next, hold the mirror up to the wall at the desired height and use a pencil to mark the spot where the nail or screw will go. Be sure to do this in pencil as you might eventually want to erase it instead of having to paint over a dark marker or paint mark.
Finally, use a hammer or drill to drive the nail or screw into the wall and hang your decorative mirror.
Find the Best Mirrors in Sydney
Ready to find the perfect decorative mirror for your Sydney home? Options abound at Mirror City. We can even help you with professional installation as we have experts on hand to take care of everything for you.
From custom-made mirrors built to fit a specific design or space to elegant mirrored furniture, we specialise in everything mirrored. And, we're here to help ensure that your mirrors fit well within your living space.
If you have questions, feel free to get in touch regarding the best mirror design for your living room, bathroom, bedroom, or more. Or, browse through our best-selling mirrors as a way to inspire your next mirror purchase.