How to Choose the Right Mirror Shape for Your Room
Posted by MIRROR CITY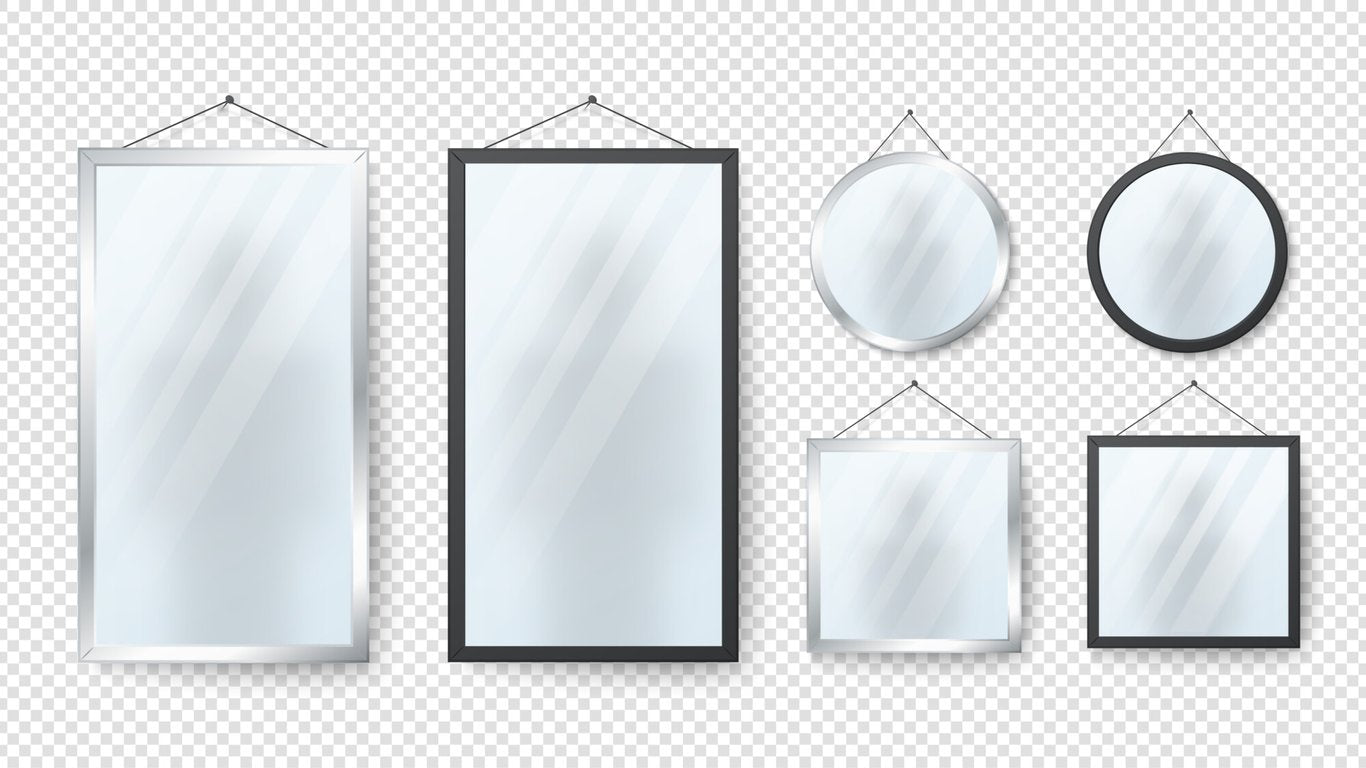 Mirrors play a vital role in the aesthetics of any room in the home. The global home decor market could reach revenues of up to $128.7 billion this year, and mirrors are a key part of the industry.
When it comes to choosing the right mirror shape, how can this impact your indoor living space?
Read on to learn more about choosing a mirror shape and finding the best mirror shape based on your unique needs.
Rectangular Mirrors
With their long and lean silhouette, rectangular mirror shapes look elegant and refined. What matters most for this particular mirror shape is its orientation.
Hang a rectangular mirror in portrait orientation in a bathroom, hallway, or bedroom. This will provide you with a full-body view so you can easily see yourself before you head out the door.
If you're using rectangular mirrors in a living area, try mounting one directly above the sofa in landscape orientation. The longer side should be parallel to the sofa to enhance the furniture's shape.
You can also use rectangular mirrors to make any room look larger. Hang one vertically to trick the eye and give the illusion that a smaller room is bigger than it actually is.
Square Mirror Shape
While it may seem simple at first glance, square mirrors can add a modern element to any room. These mirrors feature the same length on each side, so you don't need to worry about orientation. However, you can hang a square mirror tilted to one side to create a diamond shape if you choose.
A square mirror adds vibrancy and bright reflection to smaller areas, corners, and hallways. Use one in the home's entryway to make this part of your house feel bigger. Your choice of placement is important, especially with square mirrors since they can feel a bit cold without putting them in the right location.
For more visual interest, try a square-shaped mirror with curved edges to break things up a bit. The curvaceous lines will soften the look of the mirror and help prevent it from competing with other straight-lined objects in the room like tables or framed wall art.
Round Mirrors
A round or circular shaped mirror lends a sense of harmony and calmness to any room. This mirror design also exudes a more lighthearted, whimsical vibe.
If you want to add a new component to a bathroom, mount round mirrors over the vanity instead of the traditional square or rectangular shape. A round mirror shape gives any bathroom a porthole-inspired vibe. Try a frameless mirror to make small bathrooms feel more open.
Some round mirrors include a strap or rope to help you hang them. This component brings the mirror a decorative element and gives you the opportunity to hang it at a lower point on the wall based on your needs. Group several round mirrors together in a living room for a fun, decorative touch.
Oval Mirrors
Think of an oval mirror as a combination of a round mirror and a rectangular mirror together. With its elongated silhouette, oval mirrors feature rounded corners and a fresh, modern feel.
You can replace a classic rectangular floor or wall mirror with an oval shape to instantly add a contemporary element to any room. Try hanging this wall mirror shape vertically to serve as a full-length mirror in a hallway, closet, or bathroom.
A set of oval mirrors above the bathroom sink is another excellent alternative to traditional rectangular or square mirrors. The curvy lines of this mirror shape give it a much more relaxed, laid-back aesthetic. 
Arched Mirrors
A curved top gives arched mirrors a sense of high-end sophistication. While this design has been used for centuries, new arched mirrors have a slightly more modern edge.
Choose an arched mirror with an intricate frame if you want to add a distinctive look to any room. Arched mirrors with clean, simple lines are best for modern spaces.
The straight line on the bottom of arched mirrors makes them versatile to hang above an entryway table, a bathroom vanity, or above furniture. This mirror shape also looks gorgeous when it's hung directly above a fireplace mantel. 
Irregular Shaped Mirrors
From geometric and organic to asymmetrical, these unusually shaped mirrors add visual interest to any room. Replace wall art with one of these mirror designs to give a living space more brightness and loads of visual interest.
When buying a mirror, consider these wall mirror shape options if you want to add a bold and dramatic component to a dining space or living room. As for which style to choose, the best mirror shape is one that looks cohesive with the rest of the room's overall design and decor style.
Select a geometric-shaped mirror for a modern space, or try one that's curvy and "organic" for rustic and classic spaces. Asymmetrical and geometric mirrors work best in contemporary homes, while those with a more organic silhouette bring beauty to a boho-chic living room. 
Choose The Perfect Wall Mirror Today
Remember these options when choosing a mirror shape to help you find the best design for your home. From classic silhouettes like square and round to more unusual options including arched and asymmetrical, the right shape will make all the difference.
If you're looking for a beautiful new mirror to add to your living space, be sure to check out the fantastic collection of mirrors available at Mirror City today.