Finding the Best Mirrors for Small Powder Rooms: Your Vanity Guide
Posted by MIRROR CITY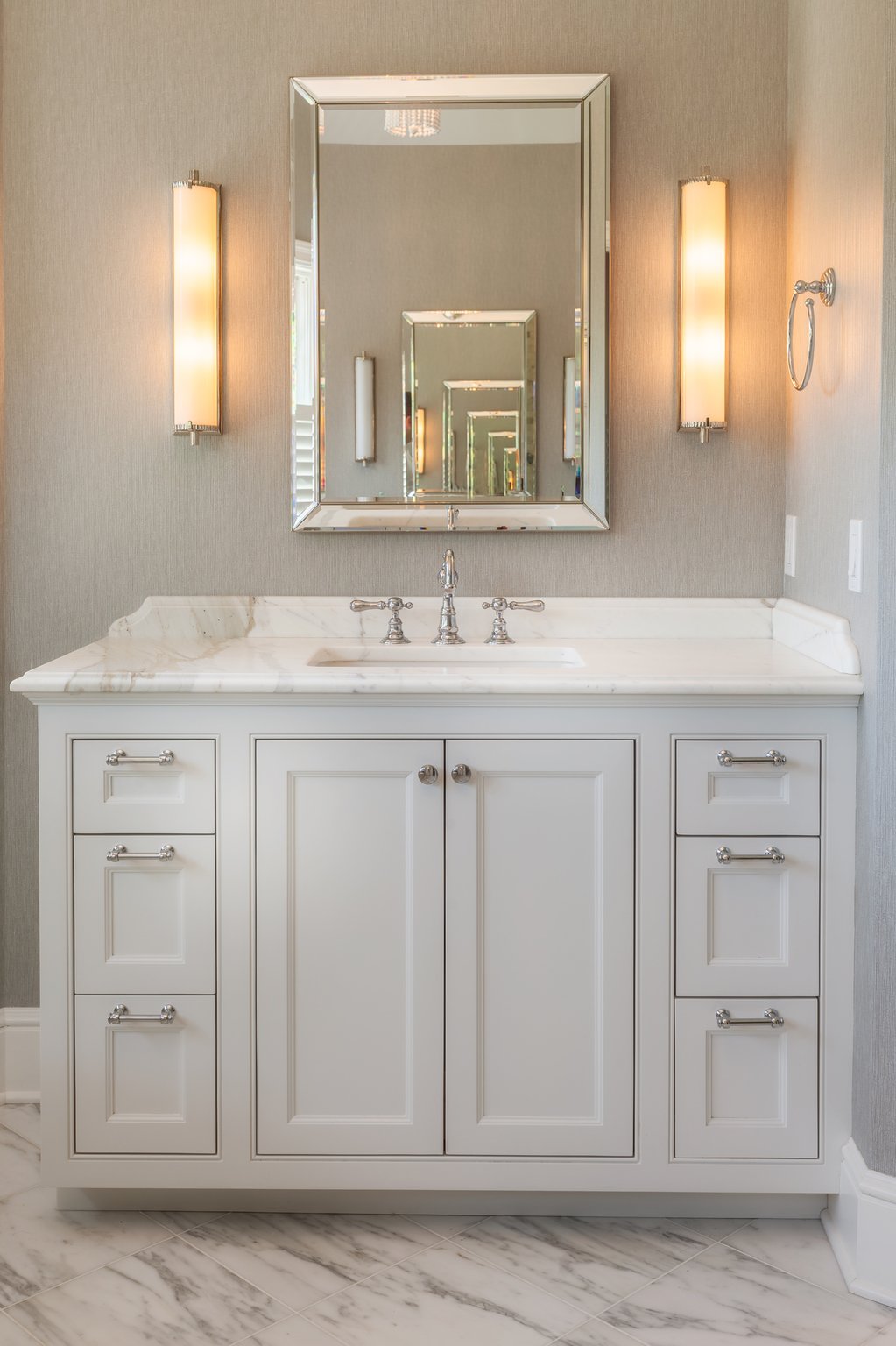 A mirror has the magical ability to transform any home design. And you can turn your small powder room into the fairest of them all with a clever and thoughtful mirror choice.
But adding a new mirror to a small space is much more than simply finding something practical to fit that powder room. It's about illuminating that interior and creating a "wow" reaction.
To help you find the perfect match, we've compiled this guide on choosing the best mirrors for small powder rooms.
Assess Your Space
Getting an accurate idea of the space is essential when working with small rooms. Precise measurements will help you decide where to place your mirror and how to choose the right-sized mirror.
Measure the height, width, and length of the room. The height is important because a high-ceiling room gives the illusion of space. Remember other items and fixtures in the room, such as recesses and window frames.
The proportion of the room is essential too. A narrow room might benefit from a large bathroom mirror and could make the room appear wider.  
You might have an unusual room shape with limited wall space for your mirror. In that case, a custom-fit mirror that precisely fits the wall could be ideal. 
Consider Mirror Size
Mirror size can have a dramatic effect on the overall appearance and function of a room.
In a small powder room, you can approach size in one of two ways. You can choose a small mirror in proportion to the room and furnishings. That's useful if you have small, dainty furnishings, as the mirror won't look out of place.
Alternatively, you can choose a large mirror that makes the room feel bigger. That style works with more modern, minimal furniture or vanity units built into the wall. 
Don't forget about vertical dimensions too. A long and thin mirror will look beautiful with tall windows and high ceilings.
Thinking About Function
Mirrors might be a stylish accessory for any interior. Yet you mustn't overlook the importance of function. Consider who will use the powder room and when.
A simple, well-placed mirror is ideal if you have a modern bathroom for guests. However, if your powder room is a grander design to allow you to do hair and makeup, you might want a mirror with extra features like built-in lights or multiple angles.
Alternatively, you might want a mirror with a head-to-toe reflection to review your outfits. In that case, you'll need a full-length mirror.  
Explore Frame Styles
It's not only the mirror size that will be important for your powder room. The frame will help you achieve the interior style you want.
A good choice of frame can bring a room together or act as a focal point. It adds character and charm.
The good news is that you aren't limited in frame designs. You can find ornate and vintage pieces or modern, angular designs. You'll also have various materials to browse, like natural woods, metals, glass, or ceramics.
Of course, there is a colour to choose from, too. A frame's colour must fit with the interior unless you want your mirror to provide the colour accent to an otherwise neutral room.  
Interior Design
When exploring your interior design, turn to social media for inspiration. A browse through ideas on Pinterest and Instagram will give you a mood board as a starting point.
The mirror style should align with the interior decor, though that doesn't mean it has to be a perfect match.
Look at the theme of your room and allow that to narrow your choices. For example, perhaps you have a rustic farmhouse interior. In that case, natural materials like soft wooden frames will work beautifully with this style.
A sleek mirror will help accentuate a minimalist interior's clean lines and simple colours. Ornate styles, in contrast, will be perfect in a room with a bold, eclectic feel.
No matter the interior, always go for a mirror that adds something to the room. It doesn't need to be understated.  
Making a Statement
To be daring, you can use your small powder room as a talking point. Consider opting for a mirror with a unique and bold design that will become a piece of practical art in your home.
You could go for an unusual shape, frame, loud colours, or other unusual design features.
Mirrors can be fun as well as functional.
A vintage or antique mirror, or something with an unusual history, will work in classically-styled powder rooms. Or you could turn a minimal powder room into an art gallery with the addition of some unique lines and colour combinations.
Mirror Lighting
The downside of a small powder room is that you may not have sufficient lighting. In that case, make sure you choose a mirror with either built-in lights or one that you can position in good lighting.
Backlit or LED lights work great for a vanity mirror and help create a modern look for your powder room. Wall-mounted lights next to the mirror will also give you plenty of additional light.  
Natural Lighting
Remember to use all the natural light you have in your powder room. If you have a window, place your mirror to reflect the natural light. It will make the room feel bigger.
Use light colours and thin blinds to help boost this effect. Natural light is perfect when applying daytime makeup, so use this to your advantage.
If your window looks out onto trees or bushes, consider trimming the branches to allow more light into your room.  
Finding the Best Mirrors for Small Powder Rooms
When choosing the best mirrors for small powder rooms, combine function with beauty. By working with the space you have and understanding your design goals, you can turn your mirror into a stunning focal point.
Now it's time to start your search. Explore the fantastic range of custom mirrors at Mirror City. Our perfect fitted mirrors mean you won't have to compromise on getting that bathroom look you want.