Go Big or Go Home: Making the Most of Rectangular Bathroom Mirrors
Posted by MIRROR CITY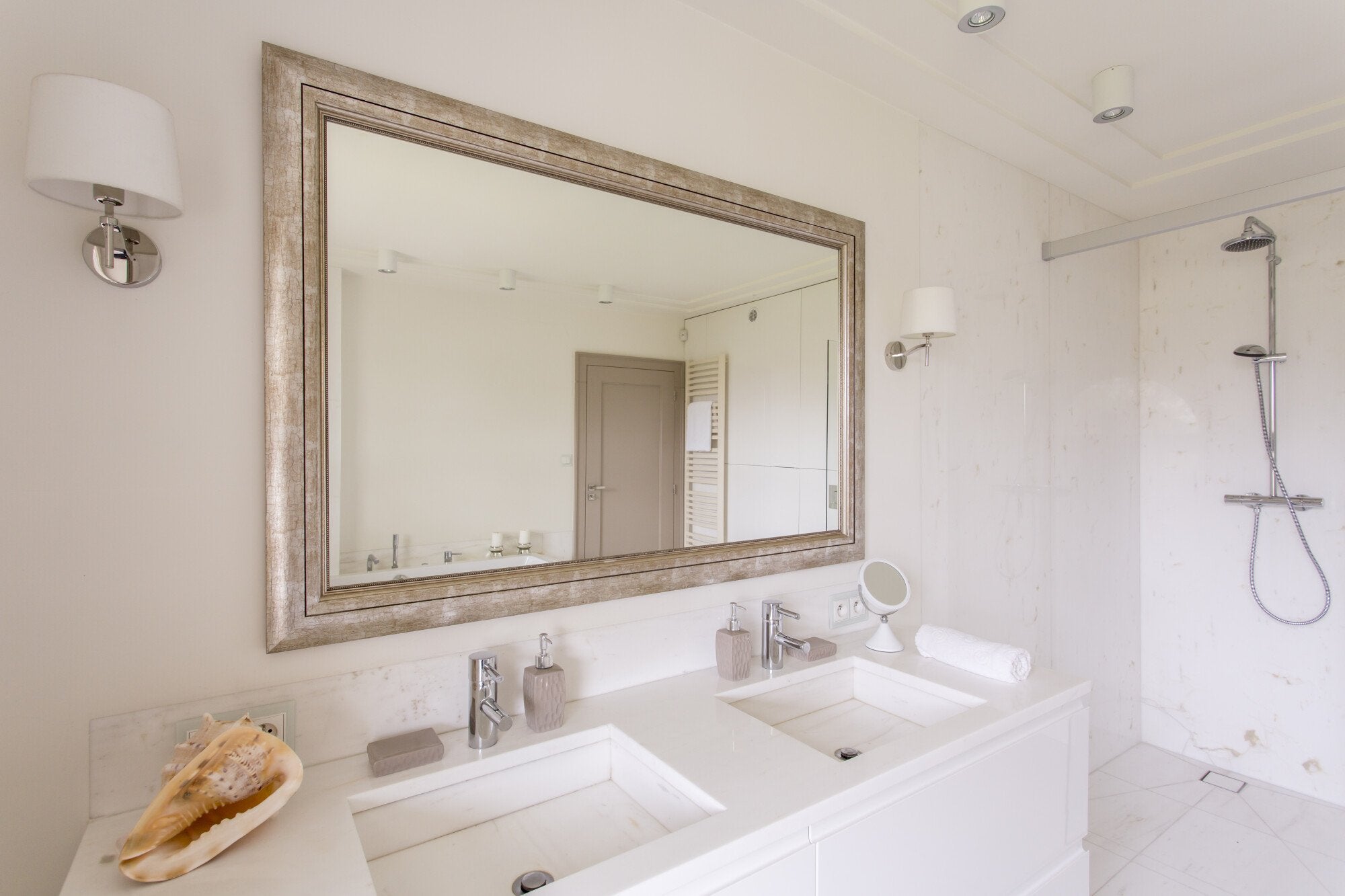 A bathroom renovation is common for a lot of homeowners. A bathroom mirror is an important piece in the room. When looking for the perfect bathroom mirror, you want the right size, placement, and illumination.
Bathroom mirrors come in different shapes. You could choose between large rectangular bathroom mirrors and bathroom vanity mirrors. A good bathroom mirror can help you see yourself in the right light. It's also easy to overlook the importance of choosing the right one.
That's why we've explored the bathroom mirror category. We want to help you find the perfect one for your bathroom. We've looked at everything from shape and size to functionality and affordability.
When you're shopping for a bathroom mirror, remember to keep in mind your existing bathroom tiles, flooring, colour and texture of your design. That way, you can easily integrate your bathroom mirror into your existing space. 
Keep reading to learn how to make the most of rectangular bathroom mirrors.
Rectangular Bathroom Mirrors: What to Look For
Finding the right bathroom mirror that fits your style and meets your needs can be hard. We'll walk you through the key product features to look for when choosing the right bathroom mirror for your bathroom.
Size and Shape
Take into account the size and shape of your bathroom. A large mirror can give the illusion of a larger space, while a smaller mirror is ideal for a small half bath. Popular shapes include rectangular, square and round mirrors. Still, you can also opt for more unusual shapes to give your bathroom a unique personality.
Frame Style & Material
Frame style and material can have a big impact on the overall look of your mirror. Choose a frame that matches your bathroom décor, whether modern and sleek, rustic and wood, or decorative and ornate. For a minimalistic look, common frame materials include metal, wood, plastic, and frameless.
Lighting Options
When it comes to lighting options, consider whether you want a built-in or attachable light. A built-in LED light around the mirror will give you plenty of light for your grooming needs and create a classy look. You can also choose a mirror with an attachable vanity light for versatility.
Anti-fog
No one wants to deal with fogging mirrors. A built-in fog coating or demister pad will protect your mirror from fog caused by steam from your shower or bath. This will keep your reflection clear even in humid weather, so you don't always have to wipe your mirror.
Accessories and Features
If you're looking for extra features like Bluetooth or smart home integration, ensure your mirror is compatible. Some bathroom mirrors have built-in speakers and touch-sensitive controls so that you can have all the bells and whistles.
Now, let's look at four of our popular bathroom mirrors.
Elsa Large Silver Beaded Wall Mirror
Are you searching for a decorative large mirror? Perhaps you have a double or wide vanity. A rectangular bathroom mirror is a perfect choice, plus it's functional and stylish. 
The Elsa is a bevelled mirror that comes with a silver finish complimented by silvery beads. The bevelled edge adds a touch of elegance without being too flashy.. 
If you're looking for a way to make your bathroom mirror stand out, consider adding an eye-catching backdrop. Or, embrace the design by utilizing a vase of fresh flowers for when you have guests. For a clean and unified look, a minimalistic soap dispenser is also an added touch.
The Elsa comes in multiple frame sizes from small to extra-large mirrors.
Jackson Polished Edge Wall Mirror
Looking for a rectangle bathroom mirror that's both stylish and practical? We recommend  a frameless bathroom mirror with a polished edge. 
Polished edges are created by buffing the edges of the glass using a fine abrasive and polishing with oil for a beautiful translucent finish. Another way to size your vanity is to ignore it and use the mirror to fill the entire wall, including the space over the toilet.
This placement allows you to get a larger mirror that can make a small bathroom feel twice as big.
Whether you have a double or single vanity, the mirror should still fill most of the wall to prevent the vanity from looking like it's misplaced. 
Zahra Black Frame Wall Mirror
Bathroom mirrors aren't one of the first things that pop into your head when designing your bathroom. Many homeowners look to a black bathroom mirror as a quick and simple addition to their bathroom décor. A black mirror's bold but minimalistic appeal works in more bathrooms than you might think.
A black framed bathroom mirror works well against a lighter colour scheme. It's a chic contrast to add depth to your décor. It can easily be complemented by matching fixtures like black vanity lights, sink faucets, or black cabinet hardware.
Black framed bathroom mirrors work well with white granite countertops,  doors, and subway tiles. Rectangular black bathroom mirrors are a favourite way to express personal style. You can choose to display it in landscape or portrait orientation.  
Bryce Anti-fog Touch Switch LED Mirror
Anti-fog LED bathroom vanity mirrors are ideal for any bathroom. The mirror has an easy-to-use touch switch that lets you turn it on and off.
You get the perfect balance of an elegant design and state-of-the-art technology. The lighted frame of high-output LED lighting illuminates the mirrored trim. It also has a built-in touch sensor to turn the LED lights on/off.
The anti-fog coating prevents the mirror from fogging even when you are in a hot shower, making it ideal for use in the bathroom.
You can also find anti-fog LED bathroom mirrors with adjustable colour temperature. They allow you to choose from a warm white room for a relaxing bath or a cool white room to prepare in the morning.
We Have More!
Mirror City has over 90 rectangular bathroom mirrors. You're sure to find a design and finish to complete your bathroom.
Our collection doesn't stop there. We have a large selection of mirrors for any room in your home. You can also order custom mirror sizes.
Don't take our word for it. Shop our mirror collection today.