8 Stunning Double Vanity Bathroom Mirror Ideas
Posted by MIRROR CITY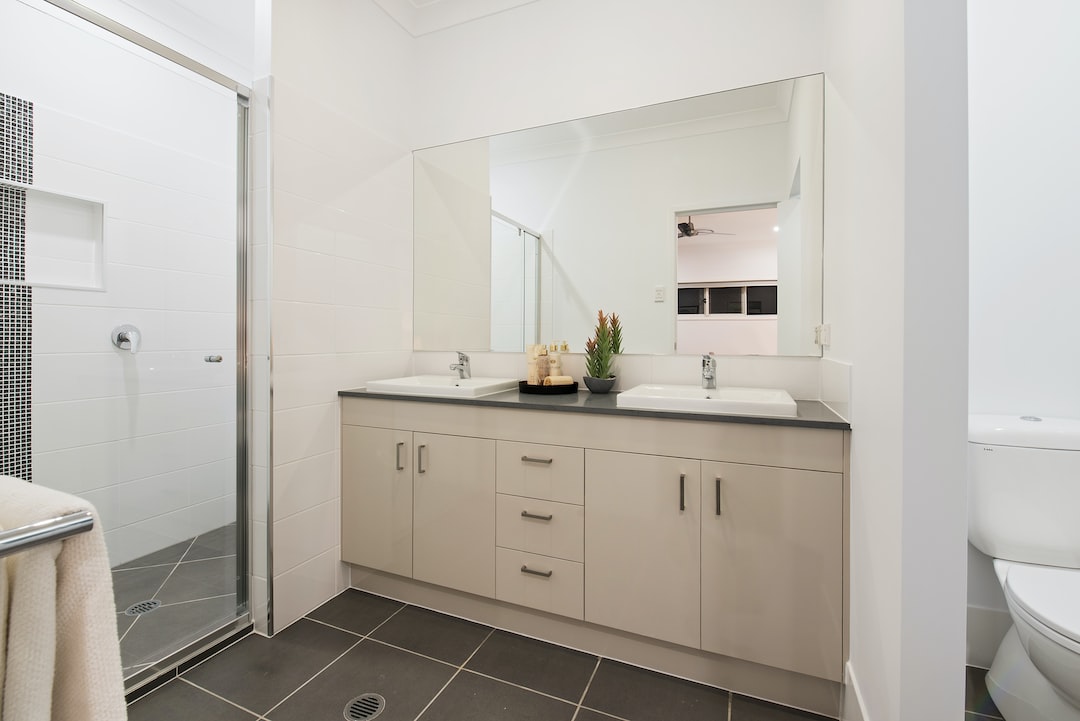 It's no secret that the right interior design can make a room much more aesthetically appealing. However, many people are surprised to learn that the space we occupy impacts our psychological behaviour.
This is one of the many reasons people choose to improve the appearance of their home's interior. Bathrooms are some of the most popular locations people focus on.
We've put together a brief guide with double vanity bathroom mirror ideas that can give this space more life and character. Let's get started.
1. Mount Two Vanity Mirrors
Mounting two separate vanity mirrors helps you personalize your space. This is great for couples and siblings.

Get creative with the styles, shapes, and sizes you choose. There's nothing wrong with choosing conventional options, though. Rectangular shapes are best for contemporary design.

If you'd prefer a dramatic appearance, you can choose frameless mirror options. Mirrors with round frames will also provide a different look compared to something more angular.

Avoid choosing two different designs for your mirrors. It's best to keep them identical.
2. Antique Options
Antique mirror installation allows you to add a unique charm to your double vanity. They're ideal for people who love nostalgic and timeless designs.

Antique mirrors come with plenty of options for finishes and frames. They're even available in a variety of shapes.

Take your time when looking to ensure the antique mirror you choose resonates with your bathroom space. To clarify, you shouldn't choose an antique mirror for a double vanity bathroom that has a modern aesthetic.
This would create visual dissonance and throw off the bathroom's appearance. You might not find it pleasant to use your bathroom in this case.
3. Large Mirrors
This is the ideal choice for a minimalistic bathroom. A single large mirror is best for small vanity spaces.
It should be noted that small bathrooms can have large vanity areas, and large bathrooms can have small vanity areas. If a large mirror would fit better than two separate mirrors, consider this option.


Think twice before choosing framed large mirrors. Since these already take up so much space, adding a frame could make the room feel less spacious.

However, frames are great for adding an extra layer of sophistication. As long as the mirror flows with the bathroom's aesthetic, you have plenty of room for creativity.
4. Wooden Frames
It's not uncommon for people to pursue farmhouse aesthetics for their bathrooms. Wooden frames are the best way to do so.
These serve to create a warm, welcoming environment. They also give the room a more natural feel.

These mirrors pair best with similar elements. Animal imagery, pictures of landscapes, and wooden drawer handles are a few ways you can tie in a wooden framed mirror.

Homeowners who want to lean into the vintage look should choose a distressed finish for their wood frame. To achieve a farmhouse appearance, a smooth texture wooden frame is best.
You can choose a single vanity mirror or two separate ones. The overall appearance is virtually the same, so choose whichever is more convenient.
5. Bathroom Cabinet Mirrors
These aren't as visually pleasing as other options. However, they have much more functionality.

Two separate bathroom cabinet mirrors can minimize clutter in your double vanity. These are best for large families or people who frequently have guests.
While it's possible to add frames to bathroom cabinet mirrors, many people choose to leave them frameless. This creates a sleeker appearance.
Keep in mind you're limited to using two separate mirrors for this choice. It's impractical to use a single large vanity mirror with a bathroom cabinet.
6. Choose Luxury
It's no secret that people love making luxury purchases. Ornate mirrors are some of the most appealing options on this list.

As such, they also come at a higher price tag. You get what you pay for, though. The aesthetic value they provide is unmatched.

These often have decorative motifs and sparkling frames. When hit by direct sunlight, they dazzle and gleam.

It's worth noting that luxury mirrors require a commitment to this aesthetic. They will look out of place if the rest of the bathroom is rather mundane. Consider upgrading your bathroom's hardware to achieve a cohesive appearance.

Luxury mirrors can be a beautiful centrepiece to visually tie an ornate bathroom together. Just make sure to budget appropriately.
7. Contemporary Design
Your options are virtually limitless when it comes to contemporary design. When striving for uniqueness, emphasize mirror shape. You're not limited to typical round, rectangular, or square mirrors.

Hexagonal options are also available. Ensure the shape of the mirror you choose fits well visually in your bathroom.

A bit of contrast can go a long way. To clarify, if most of the hardware in your bathroom is angular, consider mirrors with round frames.
8. A Splash of Color
Adding to a bathroom colour with your mirror is an easy way to give the space more life. Popular options include mirrors with tile or mosaic frames.
These come with unique charm and will make your bathroom more expressive. Colourful mirrors are also ideal for people who love art.

In many cases, you won't need to hang other decorations. A colourful mirror can serve as a centrepiece or as one of various design elements. Before you make your choice, it's worth brushing up on colour theory.

This will help you choose a mirror that resonates with the rest of the room. The last thing you want is to introduce a colour that clashes.
Leverage These Double Vanity Bathroom Mirror Ideas
These double vanity bathroom mirror ideas can take your house's aesthetic to the next level. Once you've found one that speaks to you, don't hesitate to take action. You'll be sure to impress guests and improve your daily routine once your project is finished.

Mirror City takes pride in having the most comprehensive collection of functional and decorative mirrors anywhere in Sydney. They're all available to purchase online and come with instant shipping options. Get in touch with us today so we can answer your questions or provide a free estimate.