5 Smart Tips to Help You Choose the Best Bathroom Mirrors for Your Home
Posted by MIRROR CITY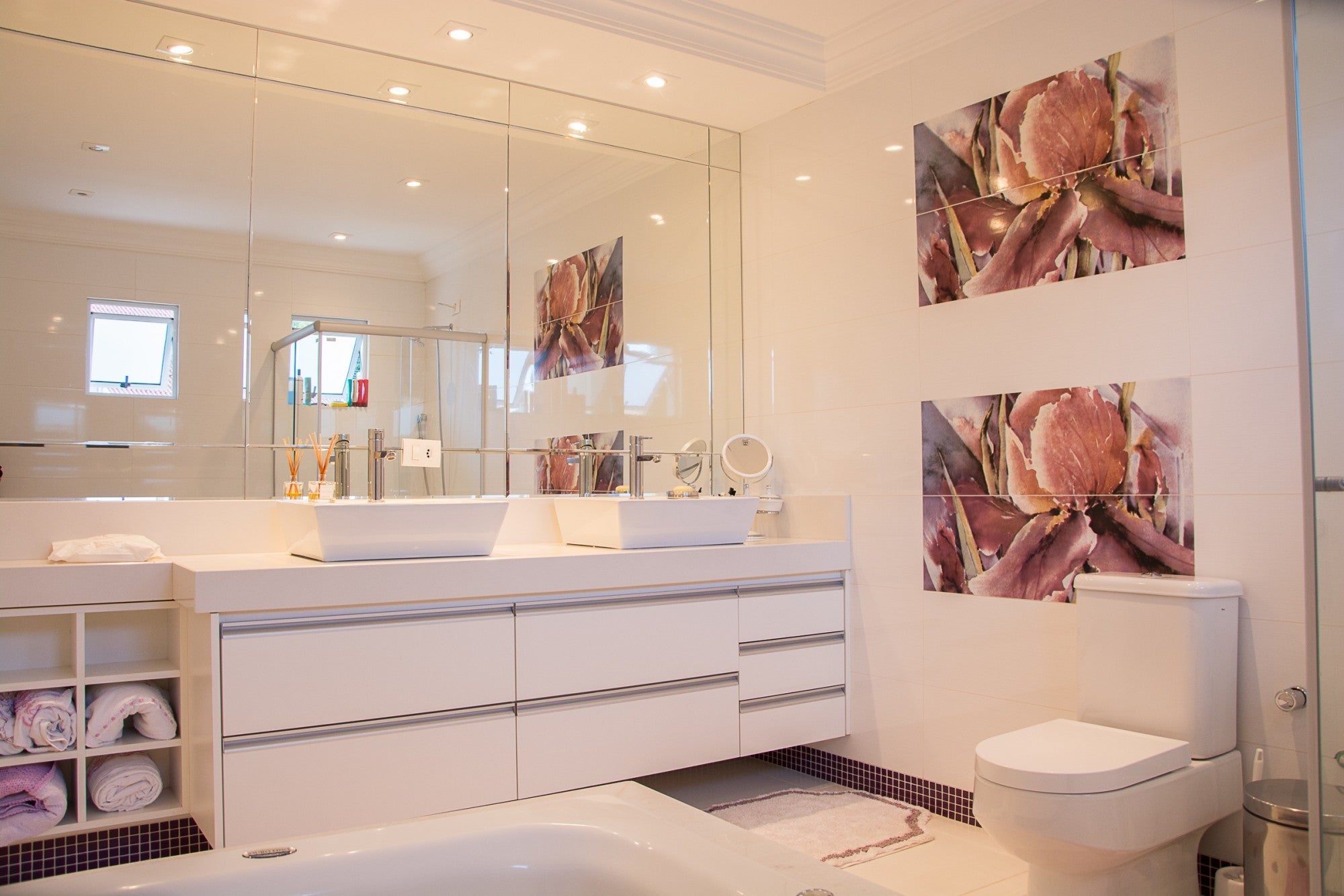 A mirror can make the smallest room seem much larger. In some cases, mirrors can make a room look like it has an unlimited amount of space. You may not be looking for an infinitely large bathroom but choosing the right mirror will have a big impact on the design and function of your bathroom. Let's look at some things to consider when choosing bathroom mirrors.
Types of Bathroom Mirrors
There are many different styles and sizes of mirrors in the bathroom. The best choice is partly a personal choice but different styles have different pros and cons.
Frameless Mirrors
Frameless bathroom mirrors are well-suited for modern bathroom designs. These mirrors are more minimalistic than a mirror with a heavy frame and provide a lighter touch.
Because there is no frame required, they can also be less expensive than many similar-sized framed mirrors. Frameless mirrors are a good choice for custom mirrors, where you want it to fit a particular space. You can have the glass cut to the exact size you want and you can get it finished with a polished or bevelled edge to give it a finishing touch.
Ornate Shapes
You can also go in the opposite direction from the minimalism of a frameless mirror and choose something more ornate. These mirrors come in many shapes and sizes, with many different types of frames.
Ornate mirrors are well-suited to older bathrooms with antique fixtures and styling. You may be able to find something suitable in an antique store or thrift shop but they can also be custom-made if you have a particular shape or style in mind.
Simple Shapes
Of course, you can choose something more simple for a mirror in the bathroom. Circles, squares, and rectangles are all common shapes. You'll find them pre-made in various sizes so you can often spend less this way than having to order a custom size or shape.
Vanity Cabinets
If you want to add more storage space in your bathroom, a vanity cabinet is a good option. They come in various sizes and styles so you can match the design to almost any type of bathroom.
Ideally, a vanity cabinet should be set into the wall rather than being mounted on its surface. This will help the mirror to blend into the decor and with the right style, it's difficult to tell it isn't just a standard mirror.
Suspended Mirrors
Mirrors don't have to be mounted flush to the wall. A suspended mirror can add a personalized touch to your bathroom's design as well as giving you more options if the wall is stone or some other material that makes it more difficult to mount the mirror.
Whatever style of mirror you prefer, we've got a few tips to help you settle on the best choice for your needs.
Measure Twice, Cut Once
There's an old saying among carpenters - measure twice and cut once. In other words, make sure you have your measurements right before you start cutting. You're not going to be "cutting" your mirror but it's still important to be sure you know what size you need, especially if you're going to have it custom-made.
Consider the mirror's proportions to the rest of your bathroom. Do you only want it to be above the vanity or do you want it to cover an entire wall? How close to the ceiling do you want it to be?
If you're going to balance it to the size of your bathroom vanity, it should either be the same width or somewhere in the 70% to 80% range, centred above it. The height should be at least one foot above and below the eye line of anyone who will be using the mirror but it can extend further if you wish.
Match the Frame to Your Bathroom's Style
Choose a frame (or frameless) to match the style of your bathroom. Is your bathroom an ornate design with lots of detail in the fixtures? An unusual shape or a frame with a lot of detail may be the best fit. If your bathroom is very minimalistic a frameless design with a simple square or rectangle shape may work better.
What's the Point?
A mirror is part of the decor in your bathroom but at the end of the day, it needs to be functional. Style and function are both important aspects of bathroom mirrors. Consider how you'll be using it when choosing your mirror.
Will you be getting dressed in front of it? A full-length mirror might work best in that case. If the overhead lighting in your bathroom is not the brightest, you might want to look at a lighted mirror. And if you want to be able to see yourself from various angles, a split mirror that can be positioned to see yourself from any direction may work best.
Don't Be Afraid to Go Big
A large mirror can be helpful in a couple of ways. First, it will give you plenty of viewing space so you don't have to stand within a limited area to see yourself. It can also make the bathroom feel much larger than it really is.
A large mirror will reflect the opposite wall back to you, effectively doubling the apparent size of the bathroom. While it doesn't add any actual useful space, this can make the room seem a lot more open.
Consider Cleaning Time
When decided on the shape and size of your bathroom mirror, something to keep in mind is the amount of time you'll have to spend cleaning. A simple mirror with no frame won't take long to clean but an unusual shape or a frame with a lot of intricate detail will need more attention.
Finding Inspiration
Before settling on your bathroom mirrors, spend some time looking around at your options. Instagram and Pinterest are great places to look for inspiration. If you find something you like, save the picture so you can talk to your mirror supplier about getting something similar.
Mirror City can help you find the right mirror for your bathroom. Discover our collection of contemporary and traditional bathroom mirrors. We've got the most comprehensive collection of mirrors anywhere in Sydney so we can help you find the right mirror for your needs. Check out our mirror inspiration wall for ideas and get in touch today.