How to Brighten Up Your Entertainment Area With Outdoor Mirrors
Posted by MIRROR CITY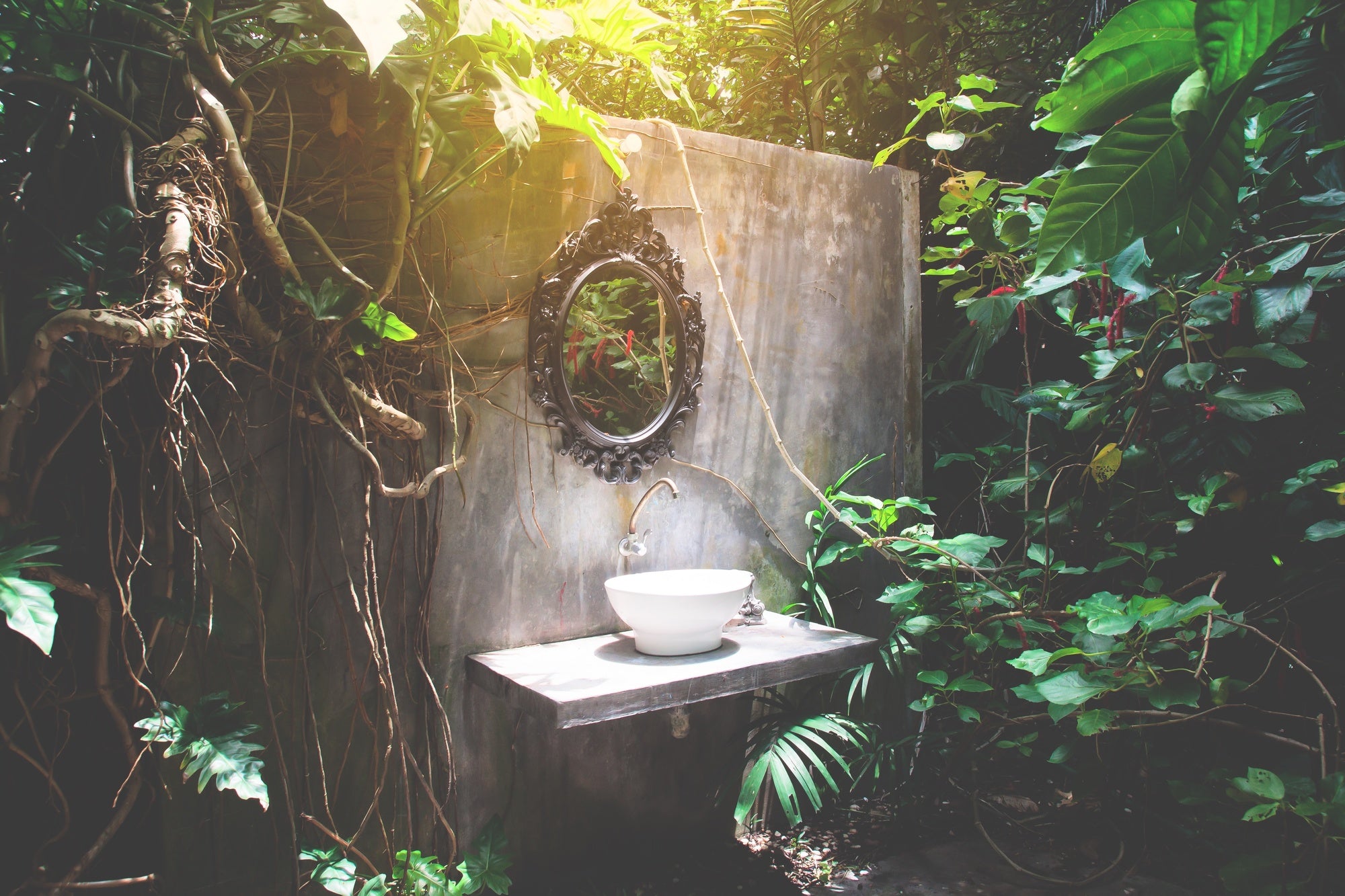 Are you looking for different ways to improve the aesthetic of your outdoor entertainment area? Do you have an interest in finding a few accent pieces to tie the entire layout together? If so, then you'll want to consider outdoor mirrors.
Doing so can help you find the perfect way to compliment your beautiful outdoor garden, outdoor porch, or any other masterful outdoor setup. In order to maximize its beauty, you should look into different ideas for how to use outdoor mirrors.
See below for several ideas of how to integrate outdoor mirrors into your outdoor layout. Make sure to consider them all as you make your plans.
1. Outdoor Nook
Some of you use your outdoor area as a tranquil resting place. You look for different ways to make it as comfy and introspective as possible.
If that's the case, then you can't go wrong with placing a round mirror within your outdoor nook. The mirror will reflect the outside light in a way that's both peaceful and inspiring.
It can be the perfect place for you to sit down on your canopy and write in your journal, read a good book, or just take in the new day with a cup of tea!
Consider a plain round mirror or a frameless round mirror to compliment the luxury aesthetic of your backyard nook. You'll find every reason to escape to this place whenever you can!
2. Stone Wall Mirror
Many people consider mirrors to be reflective windows. Think of them as an interactive portrait on your wall. A perfect way to see yourself in the beautiful outdoors.
While you might love the stone or brick walls on your home, leaving them without anything on them can make them seem redundant. Why not liven them up by placing an outdoor mirror on them?
This will add a bit more complexion to the layout. Perfect for those of you that love to plant flowers or cactuses along the bottom of your stone walls. 
The strategically-placed outdoor mirror will look perfect in any season. It will show off the lush green trees in the spring and summer, as well as the amazing tree foliage in the fall!
3. Corner Fence Mirror
Imagine being able to make your backyard or garden appear larger than it actually is. You can use outdoor mirrors to give off the illusion of your backyard extending further than your trees.
Many homeowners enjoy placing large pieces of flat mirror glass on the corners of their fence where their property ends. They place them behind their garden and shrubbery to hide the edges (or walls) of the confined space. 
It also gives off a brilliant light to the rest of the garden. The vibrant colours of your shrubbery and plants will make your guest's jaws drop whenever they visit.
Use this technique to reflect more light to a heavily-shaded area or reflect more light away from your garden that gets too much sun during the course of the day.
4. Double Up on Beautiful Scenery
Every homeowner has a specific aspect of their outdoor oasis that they enjoy the most. So much so, that they wish they could replicate that beauty in their yard.
By strategically using outdoor mirrors, you now have a way to do that! By placing outdoor mirrors across from your favourite backdoor area, you're giving yourself access to twice the amount of beautiful scenery.
For example, line up an outdoor mirror across from your favourite tree to show off its inspiring fall foliage. Place it across from your garden to give off the appearance of having two gardens in your backyard, you get the idea!
5. Rustic Table Piece
In this day in age, rustic outdoor decor reigns supreme! Many people are leaning towards the natural and ageing beauty of rustic pieces, such as placing a beautiful farmhouse table up against the wall of their outdoor patio.
However, if you try decorating the table with just a few rustic gardening utensils, you might find it to be missing a key component.
By investing in a rustic mirror, you'll have the piece that you have been missing! You can use it as the focal point by placing it at the centre. Be sure to have the table facing your backyard to give off that natural reflection.
6. Match Your Interior Mirror Styles
Some people are looking for ways to match their property's vibe from both the inside and outside. However, there aren't many features that fit naturally with both.
You can finally tie the inside and outside of your home together by using the same type of mirrors outdoors as you use indoors. 
It's also a great way to extend the life of your mirrors. Once the mirror starts to get a bit rustic or you purchase one to replace it, you can use it outside. This will create a comfortable transition from your living room/kitchen to your outdoor space.
Be sure to consider different mirror styles that you would enjoy having both inside and outside. It's a subtle (yet effective) way to tie your entire aesthetic together.
Use Outdoor Mirrors to Your Advantage
Now that you have seen several ways to use outdoor mirrors to your advantage, it is time for you to start investing in high-quality mirrors for your home.
Be sure to read this article for more tips and information on how to use mirrors to make your rooms appear bigger. You can use this same technique to make your backyard appear bigger, as previously mentioned.
For more inquiries, please be sure to reach out via our contact us page and we will be happy to assist you further!