5 Tips For Using Mirrors In Bedroom Interior Design
Posted by MIRROR CITY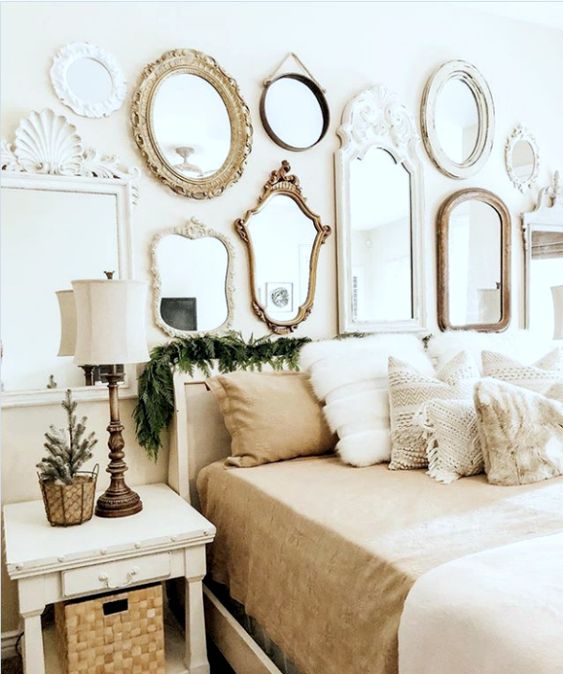 Are you in the process of renovating your home? Or are you in the middle of giving your house a different look? If there is one space in your house that deserves extra care and attention, it should be your bedroom.
Your bedroom is like your sanctuary; it is your personal space that often serves as an extension of who you are. And of the many different add-ons you can install, a mirror in bedroom spaces is a must in many ways. 
Mirrors play a big role in balancing the aura inside a bedroom according to Feng Shui experts. But whether you believe in Chinese tradition or not, you need to learn how to decorate your bedroom with mirrors.
The question now is how do you install decorative mirrors and any other mirror in your bedroom? Continue reading below for five valuable tips 
1.

 

Use It to Brighten and Enhance Your Bedroom
One of the first things to understand before hanging a mirror in bedroom spaces is that you hang one to brighten and enhance your room. And this goes for bathroom mirrors and other mirrors you place in other spaces in the house. 
Mirrors have this unique ability to create visual illusions. By hanging a mirror in your room, it can enhance an awkward space like an off-putting gap. It can also do the same if your bedroom comes with a sloping ceiling.
Also, hanging a mirror can help brighten your dark bedroom. However, you need to position the mirror where it will allow the light inside your room. 
The key is to place it opposite a window. The same thing goes if you place it next to a window. When sunlight hits the mirror, the latter will harness the light, even if the sky is a bit cloudy.
And the bigger the mirror you hang, the more light will come inside your bedroom. 
2. Consider Layering
If your bedroom theme is a bit modern, consider layering your mirror over your wallpaper. It is best to go for a simple round mirror in a black frame. Layer it over your bold wallpaper.
And if your wallpaper comes with interesting graphics and it wraps around your bedroom, the mirror will reflect your wallpaper's motif on the opposite wall.
In turn, this will create a seamless look while catching the attention of visitors. 
3. Try Vintage
If you have yet to decide on the focal point for your bedroom, consider hanging some vintage mirrors. Moreover, it will also add a unique flair and old-fashioned charm to your room. 
The good thing about going vintage is that you have many options. For starters, you can hang some vintage barber's chain mirrors. This will set up the stage for a Parisian hotel room look with the mirrors as the background.
Make sure, however, that you consider the overall look of your room. Though vintage mirrors carry that certain kind of appeal, you should still pick the mirrors that suit your style and personality one way or another.
4. Mirrored Furniture Also Works
If you think that the only way to incorporate a mirror in your bedroom is through the ones that you hang against the wall, then think again. You also have the option to invest in select mirrored furniture.
If your bedroom features elongated walls, mirrored furniture will help make it shine even brighter. When picking mirrored furniture, go for something that offers much use and value for you.
A bedside antique table is something that you will likely never go wrong with. The same thing goes for a mirrored drawer chest.
And if you have a small spot by the window, you can place a mirrored accent side table where you can place a cup of coffee while reading your favourite book.
5. Always Add Your Personal Touch
Last but not least, always try to add your personal touch when designing your bedroom by using mirrors. As we mentioned earlier, your bedroom is an extension of who you are. Thus, it should represent your personality or part of it.
In turn, the look at the style of your bedroom will make you feel more at ease. It will help you relax after a long and tiring day. 
In the case of mirrors, choose one that doesn't clash with your taste in style. 
Mistakes that Diminish the Impact of a Mirror in Bedroom
Knowing where and how to hang your mirrors is great. But it's only one half of the story. You also need to avoid certain mistakes that will diminish the mirrors' impact in your bedroom.
Let's take a look at some of them below:
1.

 

Only One Light Source
As much as you want your bedroom to be cozy, it doesn't mean you should use a single light source. Sticking to only one light bulb will certainly neglect the corners and other darker areas in your bed.
In turn, your mirror will not reflect as much light as it should. Apart from your main ceiling light, invest in a good bedside lamp or lampshades.
2. Hanging Opposite Your Bed
Avoid hanging your mirror opposite your bed. This is one of those golden rules that you should never break. Doing so may disrupt your sleep.
This is because mirrors bounce light, which will only keep you awake.
3. Never Above the Fireplace
If you have a fireplace in your bedroom, never hang a mirror above it. Doing so will defeat the value of the mirror. Hanging the mirror above the fireplace means placing it in a very high position. 
In turn, it will only reflect your ceiling, which is something you do not want to see.  Instead, forget about the mirror and hang colourful artwork above your fireplace. 
Let's Get the Right Mirrors for You
Learning how to design a mirror in bedroom areas may seem like no big deal. But doing it the right way will do wonders for your sanctuary. And if you're hunting for stylish quality mirrors, we have them all here for you.
Check out our catalog of mirrors in different styles, shapes, and colors. Connect with us and let us know what you're looking for. Let's get you the mirrors you deserve at home.